Ah, Bergen County – a place where beauty and convenience converge to create an idyllic setting for those fortunate enough to call it home. Nestled just outside the hustle and bustle of New York City, this picturesque haven offers residents a delightful mix of suburban charm, lush greenery, and easy access to world-class entertainment and amenities.
But as with any locale worth its salt, there's more than meets the eye when you're considering living in this much-coveted corner of New Jersey.
So grab your favorite cuppa joe or tea (we won't judge), find a cozy spot to settle into, and let us take you on a virtual tour through the ins and outs of life in Bergen County. We'll dive deep into what makes our community so uniquely appealing while also exploring some potential drawbacks that might give even the most ardent fan pause for thought.
After all, we want you to feel like you belong here – but only if it's truly the right fit for your lifestyle!
Cost Of Living: The Financial Factor
Bergen County boasts beautiful landscapes, bustling communities, and boundless opportunities for residents. However, before you pack your bags and move to this picturesque piece of paradise in New Jersey, it's crucial to consider the cost of living that comes with residing in Bergen County.
As a Bergen County expert, I'll guide you through some financial factors that will affect your budget management while helping you decide if this charming county is the perfect place for you.
Property taxes are an essential factor when considering life in Bergen County or any other area. In comparison to national averages, property taxes here tend to be higher; however, these funds contribute significantly towards maintaining exceptional public services like police and fire departments and libraries. It's important to note that various towns within Bergen County offer varying levels of property tax rates depending on their location and amenities provided.
If managing a tight budget is one of your priorities, seeking out more affordable areas within the county may serve as a suitable option without compromising access to fantastic regional benefits. You might also want to explore available financial assistance programs such as mortgage grants or low-income housing initiatives designed specifically for those who need help navigating high costs associated with homeownership.
The cost of living goes beyond just property taxes though; think about daily expenses like groceries, utilities, transportation costs – all elements that can impact your overall lifestyle satisfaction level. With proper planning and research into available resources tailored towards assisting new residents acclimate financially (and otherwise) to their surroundings, settling down in Bergen County may indeed emerge as the dream destination many envision it being!
Now let us delve deeper into another enticing aspect – educational excellence: schools and opportunities waiting at every corner for eager minds ready learn grow together community setting, fostering a nurturing and supportive environment for students of all ages and backgrounds.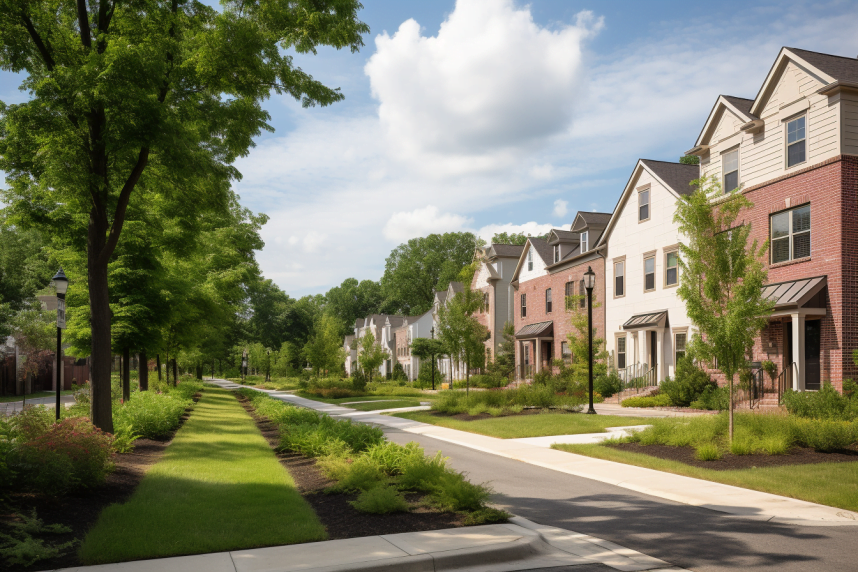 Educational Excellence: Schools And Opportunities
One of the most compelling reasons to consider living in Bergen County is the educational excellence that abounds within its borders. As a resident, you'll have access to top-notch academic resources and opportunities for both children and adults alike.
The schools here consistently rank among the best in New Jersey as well as nationally, setting students up for success not only academically but also socially and emotionally. A key factor contributing to this high level of education quality is the breadth and depth of extracurricular offerings available across all grade levels.
From arts programs like music, theater, and visual arts to athletic teams spanning various sports, there's truly something for every child's interests and talents. Additionally, many schools provide specialized programs catering to distinct learning needs or aspirations such as gifted & talented curricula, dual language immersion classes, Advanced Placement courses, International Baccalaureate diplomas, and more.
This vast array of options ensures your little ones will be fully supported on their individualized journeys toward intellectual growth and personal fulfillment. The outstanding reputation held by Bergen County schools doesn't stop with K-12; higher education institutions located nearby include illustrious names such as Columbia University, Rutgers University, Montclair State University, Farleigh Dickinson University, Ramapo College, Felician College along with Bergen Community College offering affordable yet comprehensive degree pathways.
With so much emphasis placed on nurturing lifelong learners who are equipped for success in today's ever-evolving world – it's no wonder families find themselves drawn time after time to make their homes amidst these thriving communities where education remains a cornerstone value at each stage of life. And if that wasn't enough reason to choose Bergen County as your new home base – let us now explore what awaits when commuting becomes part of your daily routine!
Commuting And Transportation
You'll find that Bergen County's exceptional educational opportunities effortlessly segue into its commuting and transportation advantages.
As the most populous county in New Jersey, traffic congestion can be a challenge during peak hours; however, residents have access to various public transit options and alternative routes that help them navigate their daily commutes with ease.
Living in Bergen County has several perks when it comes to transportation – we're talking about easy access to major highways such as I-95, I-80, and Route 4 as well as New York City just across the George Washington Bridge.
Additionally, NJ Transit buses cater to both local travel within our beautiful towns and direct services to Manhattan for those who work or study there.
Not only does this make life more convenient for our residents but also contributes significantly towards making Bergen County feel connected and part of something bigger than itself.
As we prepare to explore job market and employment prospects in the area, let's not forget all these commuting benefits which ultimately contribute to a better quality of life here.
It allows us no time wasted on long journeys while providing ample opportunity for networking among professionals working in diverse fields.
So buckle up your seatbelt, because we are about to cruise through promising career paths awaiting you right here within reach from our lovely Bergen County neighborhoods!
Job Market And Employment Prospects
When it comes to job market and employment prospects, Bergen County has a lot to offer. One of the major advantages is the diverse range of opportunities available across various industries. Job seekers can find positions in healthcare, technology, finance, retail, hospitality, education, and more. This wide array of job diversity allows residents to not only explore different career paths but also maintain stability as they pursue their professional ambitions.
Another significant advantage of living in this county is the abundance of networking opportunities that come along with being situated so close to New York City. Many prominent organizations host events and conferences within easy reach for Bergen County residents looking to make valuable connections or learn about emerging trends in their respective fields. Additionally, having access to thriving industries like Manhattan's financial district provides numerous chances for upward mobility and growth within one's profession.
As you consider your future in Bergen County, don't forget about the importance of work-life balance! The area offers numerous recreational activities and attractions that cater to all interests – from outdoor enthusiasts seeking adventure on a hike through Palisades Interstate Park or golfers perfecting their swing at local courses; there truly is something for everyone here.
So while you're busy building your dream career alongside other ambitious professionals pursuing theirs, remember that life isn't just about work – it's also about enjoying what this vibrant community has to offer outside office hours too. Now let us dive into some popular recreational activities and attractions awaiting you in Bergen County!
Recreational Activities And Attractions
Oh, what a shame that Bergen County has absolutely nothing to offer in terms of recreational activities and attractions. Just kidding! As a Bergen County expert, let me assure you that this couldn't be further from the truth.
Bergen County is home to an abundance of scenic hiking trails where one can find peace and tranquility without venturing too far from urban life. From Palisades Interstate Park to Ramapo Valley Reservation, there is no shortage of picturesque landscapes waiting for your exploration.
For those who prefer indulging their taste buds over working up a sweat on the trails, worry not – diverse dining options are plentiful here as well. Whether it's Italian cuisine at Saddle River Inn or authentic Korean barbecue in Fort Lee, the county offers endless culinary experiences guaranteed to satiate even the most discerning palates.
And don't forget about our rich cultural events; you'll feel like you're part of something special when attending one-of-a-kind celebrations such as Ridgewood's Music Fest or Mahwah Day.
As if all these amazing offerings weren't enough already, the people of Bergen County also enjoy unparalleled access to world-class entertainment just across the Hudson River in New York City.
With all this bounty right outside our doorsteps, I guess we really have it tough here.
Onwards now, dear reader – let us delve into safety and crime rates within the area so you may gain an even deeper understanding of life in beautiful Bergen County.
Safety And Crime Rates
One of the most appealing aspects of living in Bergen County is the sense of security that comes with residing in a community where everyone looks out for each other. Neighborhood watch programs are prevalent throughout many towns in this area, encouraging residents to stay vigilant and report any suspicious activity they may witness. These initiatives not only foster camaraderie among neighbors but also contribute significantly to crime prevention, making our streets safer places for families to live and grow.
Another factor contributing to the low crime rates in Bergen County is the strong police presence in local communities. Our well-trained law enforcement officers work tirelessly to ensure that criminal activities are dealt with swiftly and effectively, giving residents peace of mind knowing that their homes and loved ones are protected. Additionally, there's an emphasis on community involvement – from town hall meetings where citizens can voice their concerns directly to officials, to various events designed to strengthen relationships between law enforcement agencies and civilians like National Night Out events each August.
This collaborative approach has proven successful at maintaining a safe environment that both current residents and newcomers can appreciate. Bergen County will continue striving towards preserving its safe haven reputation by keeping these effective measures intact. As you consider relocating here or if you're already enjoying life within our borders, rest assured that your decision will be rewarded with a secure atmosphere that few other areas can provide.
With safety being one important aspect checked off your list of desirable qualities when choosing a place to call home, next on your journey would be exploring housing options and real estate market trends in beautiful Bergen County.
Housing Options And Real Estate Market
When it comes to housing options in Bergen County, variety is the spice of life. The real estate market here offers a wide range of choices for anyone looking to call this beautiful area home.
From historic architecture that transports you back in time to modern developments with state-of-the-art amenities, there's something for everyone in this picturesque county.
One of the most appealing aspects of living in Bergen County is its commitment to green space preservation. With an abundance of parks and nature reserves scattered throughout the region, residents can easily escape the hustle and bustle of daily life and immerse themselves in serene surroundings where they can recharge their batteries.
This focus on preserving natural beauty also means that many neighborhoods boast lush landscapes and tree-lined streets, creating a peaceful atmosphere perfect for raising a family or simply enjoying some well-deserved downtime.
Additionally, diverse neighborhoods cater to various budgets and preferences; whether you're seeking upscale luxury or affordable comfort, chances are you'll find your dream home within these charming communities.
As we explore the housing options further, it becomes evident that Bergen County has managed to strike a balance between traditional charm and contemporary convenience. Some areas showcase exquisite pre-war homes alongside new construction properties while others maintain their historical character yet offer easy access to modern amenities such as shopping centers, restaurants, schools, and more.
So if you have been searching for that ideal place where history meets today's lifestyle needs without compromising either aspect, look no further than Bergen County – a truly one-of-a-kind destination where lasting memories await!
Conclusion
In summary, Bergen County is a beautiful gem tucked away in the Garden State. From its top-notch schools to the diverse recreational activities, this county truly has it all for those who call it home. However, one must weigh the cost of living and competitive job market against these benefits before making a decision.
As an expert on Bergen County, I can say that life here is like walking through a lush garden filled with opportunities to learn, grow and thrive. If your heart yearns for such an enriching experience, then consider planting your roots in this exceptional corner of New Jersey.
Homes for Sale in Bergen County