Welcome to the Future of Real Estate
eXp Realty offers all of the tools and resources and support agents need to be successful in a changing market.
Our Core Values
Community
Be a good neighbor to create a sustainable legacy
Sevice
Make positive change in our community and local community
Collaboration
We are all on the same field
Fun
Don't take yourself too seriously
Innovation
The best way to predict the future is to invent it
Transparency
Get things out from behind the curtain
Agile
Force chaos and change to survive and grow
Sustainability
Be a good financial steward of the environment, the organization and our families
Integrity
Do the right thing
Learn More About What eXp Realty Offers its Agents
eXp World
Expand
eXp Realty was built so agents did not rely on brick and mortar offices to function. Agents meet in the cloud based eXp World to get assistance from staff, meet with their broker, attend trainings, or kick a soccer ball around!
Every week eXp Realty offers around 50 hours of live interactive training. Some of the popoluar classes include:
Fast Start (New Agent Training)
Farming for Dollars
Power Girls Mastermind
X Camp
Goal Setting for Agents
Negotiation that Works
IConversations
Leadership Meeting
What is special about the trainings we have is that they are run by some of the most productive agents and trainers in the country. You are getting high level training that you can actually implement into your business.
Workplace by Facebook
Expand
Workplace by Facebook is eXp Realty's version of a company intranet and message board. Think of it as our version of Facebook with groups for just about anything you would need related to real estate. There are groups for utilizing your CRM, best practices for digital farming, state groups for local issues, referral groups, and so many more.
eXp Realty agents can access recorded and live stream classes, ask questions, or just share ideas.
KVCore (CRM and Lead Generation)
Expand
KVCore is a best in class solution for client relationship management, website, and lead generation. Simply put it is one stop program to run your business. You can maintain your database, send emails and texts, provide access to MLS listings through IDX data feed, generate leads through squeeze and landing pages, and provide pertinent information on the consumer facing website.
To see how the website works you can visit www.ryangibbons.exprealty.com.
KVCore is provided as part of the technology package to all eXp agents. If purchased on your own it would cost $100s every month. If you don't find technology easy to graps that's ok as there are groups in Workplace dedicated to teaching agents how to use the platform. There are even opportunities to pay someone to set it up manage your leads and/or generate new leads.
eXp Marketing Center
Expand
The eXp Marketing Center is where agents can create thousands of stylish and up to date marketing materials. Below are some of the items agents can create with ease
listing flyers
mailings
personalized videos
door hangers
flyers
social media graphics
What makes it easy is all you have to provide is images and text and the system creates the materials for you. When you are done simply download them and you are ready to go.
To see some of the options visit www.expmarketingcenter.com
eXp Enterprise
Expand
eXp Enterprise is the hub of all things eXp Realty. You can access everything from eXp World to Workplace to your transactions and revenue share. By logging in you can view all of your expenses, get into KVCore and learn more about the company with eXplore guide. The company is constantly upgrading the system to add new functionality, support, and security.
Skyslope
Expand
Skyslope is the technology we use for digital signatures and document submission. Simply upload your documents and you will have the ability to send to your clients and partners for signatures.
It is also how we stay compliant and submit transaction documents to our broker and transaction coordinators. When you have a new transaction you create it in Skyslope with pertinent info and it generates a checklist with the documents you need to submit. This way all documents are in one place and you have a record of what is complete and what needs attention. It allows us to be truly paperless as everything can be signed and stored digitally. It also allows us to truly work from anywhere.
eXp University
Expand
eXp University is our recorded training hub. Whie we pride ourselves on live interactive training we also realize that agents can't always attend in person. That is why we are constantly updated our recorded library of trainings.
Agent Healthcare
Expand
eXp Realty partners with Clearwater Benefits to provide U.S. eXp Realty agents with innovative and low-cost choices for their health care. The program is named eXp Agent Healthcare. To learn more, please visit www.eXpAgentHealthcare.com.
eXpand Mentorship Program
Expand
The eXpand Mentoring Program provides newly licensed agents a learning platform where they will gain the fundamental knowledge required to start and build a successful real estate career. Each mentee is paired with a certified eXp Realty mentor who is a member of the same MLS and local geographic area.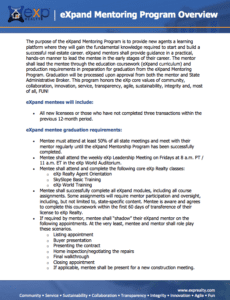 eXpand mentors play a vital role by providing guidance in a practical, hands-on manner to lead mentees in the early stages of their career. In keeping with our core values, mentors also contribute to the sustainability of the company by helping newly licensed agents become successful and productive.
Why Partner with Us?
Access to our office in Oradell – Our eXp Realty branch office is available free of charge to our agents! Come in any time to meet clients, get work done, or attend in person trainings.
In person trainings – Although we value the power of on line training we also see the benefit of meeting person. That is why we schedule trainings every month for agents to keep up with current trends and learn new methods.
Unlimited access to Jay Kinder, Michael Reese and Al Stasek Our eXp Realty branch office is available free of charge to our agents! Come in any time to meet clients, get work done, or attend in person trainings.
Lifetime membership in the National Association of Expert Advisors so you can leverage our PROVEN, done for you marketing tools to grow your business
Done for you listing and buyer presentations we've used to sell over 6,000 homes so you have a proven system to win clients
​Certified home selling advisor designation so you are training on how to win every listing at your price and eliminate discounting forever
​Certified home buying advisor designation so you have a system of attraction that gets buyers to run red lights to meet with you.
​Prospecting Gold, our scripts and dialogues for you or your ISA to make money through outbound prospecting that we used to 272 transactions in 12 months
​Inside Sales Bootcamp – our 3 day private client course breaking down how to execute outbound callers to scale your business.
Strategic Marketing Masters – our course led by Jay Abraham exclusively for real estate agents
​52 Listings in 52 Weeks
Our done for you marketing and follow up campaigns that generate and convert quality buyer and seller appointments
​Buyer agent Training so you don't have to invest your time training your agents every week
Agent to CEO Training – our coaching in a box so you have all the systems, processes, and documents to grow your business at your fingertips
​Weekly Live Calls with Jay, Michael and Al on what's working now
​Weekly interviews with the industries top agents so you can learn exactly what top agents are doing to get business
​KRU – Kinder Reese University and Inner Circle so you have access to our team of experts in marketing, outbound ISA services, and coaches so you never have to pay for coaching and training again
Access to all NAEA and Kinder Reese live training events throughout the year for only the price of materials.
​Invitation for producers closing 25M or more or with a minimum of 5 agents attracted to our private client mastermind
​The certainty that you will be as successful as you always imagined
Company Stats
States 50 Total US Sides 135,320 Countries & Growing 4
Schedule a Call
When you join eXp Realty, you become part of a global family of agents and partners dedicated to transforming the real estate experience.
SCHEDULE A CONFIDENTIAL CALL TO LEARN MORE
North Jersey Partners brokered by eXp Realty | 550 Kinderkamack Rd Oradell, NJ 07649 | 201-685-4788