[et_pb_section][et_pb_row][et_pb_column type="4_4″][et_pb_text admin_label="Text" background_layout="light" text_orientation="left" use_border_color="off" border_color="#ffffff" border_style="solid"]
The Bergen County Zoo at Van Saun has always been a favorite spot for families as it offers a great day out while learning about animals and the environment.  Many in the area don't know about all of the educational programs that they offer throughout the year for young learners.  This Fall is no different as they have programs like Playtime at the Zoo, Zoo babies, Zoo Kids, Recycled Art, and the ever popular ZooBoo.
Information on these programs is now available.  You can click on the image below to get great information on the programs.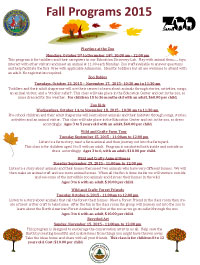 ZooBoo at the Bergen County Zoo will be held this year October 23 and 24, 2015.  There will be trick or treating, ghostly storytelling, magic shows, and the scratu train ride.  Since this is a very popular event tickets will sell out so don't wait to take advantage of this event.  Tickets are on sale now to Zoo members and will go on sale to general public on October 1.  This event and many others are brought to you by the Friends of the Bergen County Zoo.  You can learn more about the programs, the organization, how to support the zoo and so much more at http://www.friendsofbergencountyzoo.org/
[/et_pb_text][/et_pb_column][/et_pb_row][/et_pb_section]