Immerse yourself in the stunning spectacle of autumn in New Jersey, a region widely acknowledged for its breathtaking fall foliage. This guide reveals the best spots to admire this annual spectacle, from the lofty heights of High Point State Park to the tranquil shores of Lake Nummy. Whether you're an enthusiast for quiet hikes or scenic drives, our guide offers an assortment of options. Learn about the perfect timing and locations to witness the vivid array of colors and make this fall in New Jersey a season to remember.
New Jersey, particularly Bergen County, harbors pockets of natural beauty that are perfect for outdoor activities, making it an ideal location for families and nature lovers. In the fall, the region transforms into a vibrant canvas of reds, oranges, and yellows, painting a picturesque landscape that is sure to captivate your senses.
High Point State Park, known for being the highest elevation in the state, offers panoramic views of the colorful foliage. The park is also home to a myriad of hiking trails suitable for all ages, making it a splendid location for family outings.
On the other hand, Lake Nummy, nestled in Belleplain State Forest, offers a serene setting for those seeking a peaceful retreat. Surrounded by trees showcasing their autumn colors, its calming waters offer a resplendent reflection of the fall hues.
So, if you're seeking a place to witness the breathtaking fall foliage, consider New Jersey as your destination. Not only will you enjoy the natural beauty, but you may also find this region an appealing place to call home.
Key Takeaways
There are several tours available for experiencing fall foliage in New Jersey, including mountain, woodlands, historical, colonial, pinelands, and farmlands tours.
The peak time to see fall colors in New Jersey is between the second week of October and the second week of November.
Fall foliage can be seen virtually everywhere in New Jersey, including state parks, state forests, public gardens, and scenic routes.
The duration of fall foliage in New Jersey is about 5 weeks, with the majority of leaves turning by the second and third weeks of October.
Early to Mid-October Mountain Tour
If you're thrilled by the prospect of experiencing the captivating shift in hues from summer green to autumn gold, then a mountain tour in early to mid-October is just the ticket. New Jersey's outdoor spaces are brimming with a bounty of hiking trails that meander through dense, foliage-rich forests and lead to scenic vistas where one can drink in the panoramic beauty of the changing landscapes.
Take, for example, Stokes State Forest in Branchville. This verdant space is well-loved for its meticulously maintained trails, convenient picnic facilities, and jaw-dropping views that will leave you spellbound. It's the perfect place for a family outing, offering a mix of relaxation and adventure.
Then, there's the Delaware Water Gap National Recreation Area. Stretching over a staggering 70,000 acres, this recreational wonderland not only offers hiking but also boating opportunities along the serene Delaware River. It's an ideal location for young families who enjoy a blend of land and water activities.
But if you're looking for a vantage point like no other, head to the High Point State Park in Sussex. As the name suggests, it boasts the highest elevation in the state. From here, you can feast your eyes on the dramatic autumn colors, spread out like a painter's palette against the crisp blue sky.
Early to Mid-October Woodlands Tour
Experiencing the majestic aura of the mountains might inspire you to explore the magical woodlands of New Jersey. This unique environment undergoes a captivating transformation in the early and middle weeks of October.
Interaction with Nature: This period is when wildlife is most active in the woods, offering a chance for nature lovers to observe numerous species in their natural environment.
Picturesque Reservoirs: Locations such as Wanaque Reservoir provide awe-inspiring views of the woodland's transformation into autumn hues.
Autumn Excursions: Spend time walking through the vibrant foliage on trails found in Ringwood State Park or Farny State Park.
Villages Steeped in History: A trip to the charming Newfoundland provides a mix of cultural history and autumnal splendor.
Experiencing the Outdoors: Opportunities for bird watching are plentiful within the Wanaque Wildlife Management Area. Echo Lake Stables also provides horseback rides, adding to the array of outdoor activities available.
Providing a comprehensive presentation of the area's attractions, the purpose is to give those interested in Bergen County a wealth of knowledge about the local activities and potential real estate opportunities. Perfect for young families and individuals alike, this guide offers a thorough understanding of what it means to live and play in this beautiful region.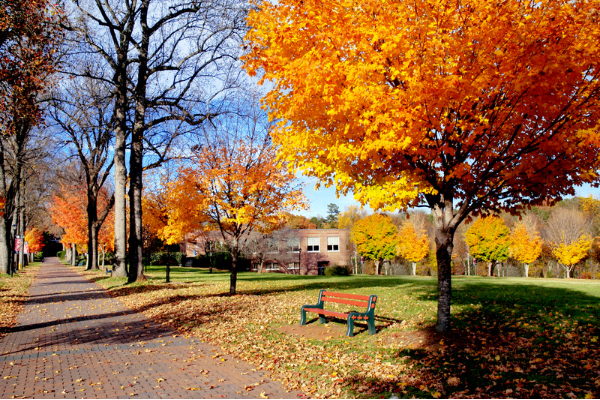 Early to Mid-October Historical Tour
The allure of New Jersey is accentuated during the early to mid-October period when the fall foliage peaks, painting a picture-perfect scene for history buffs and nature lovers alike. A trip to Jenny Jump State Forest should be at the top of your itinerary. This enchanting location transforms into a sea of vibrant colors, providing a mesmerizing backdrop for your historical exploration.
Moving on, the quaint town of Netcong, with its charming history and radiant autumn views, offers an experience that is both visually and intellectually stimulating. The town's vintage appeal is heightened by the autumn colors, adding a touch of magic to your tour.
Waterloo Village is another must-visit location with its rich history. Embarking on a tour here is like stepping back in time, with the fall scenery enriching the experience. The village's history, combined with its picturesque surroundings, makes for an unforgettable journey.
The town of Hope is home to the Moravian Church, a historical landmark that embodies the town's past. As the fall colors envelop the town, the church's historical significance becomes even more pronounced, providing a unique blend of history and natural beauty.
Complete your historical tour at the Pequest Trout Hatchery. Here, you can combine an educational experience with the awe-inspiring views of the fall foliage. The hatchery's exploration provides a fun and interactive experience, making it an ideal spot for families.
In a nutshell, an early to mid-October historical tour in New Jersey is a perfect blend of rich history and stunning natural beauty. Whether you're a history enthusiast, a nature lover, or a family looking for an educational outing, this tour offers a memorable experience for everyone.
Mid to Late October Colonial Tour
Moving into the vibrant season of fall, the second half of October offers an opportunity to immerse yourself in New Jersey's rich colonial past. This is all set against the backdrop of stunning autumnal hues, making it perfect for the whole family to enjoy.
Kicking off this journey into the past, Morristown stands as a charming destination, brimming with historical landmarks. This was where George Washington's army endured the harsh winter of 1779-1780, leaving behind tales of resilience and bravery.
From here, make your way to the Great Swamp Outdoor Education Center in Chatham. This nature center is home to an array of wildlife, offering a chance to learn about local fauna in the midst of striking fall foliage.
Afterward, a scenic drive through Somerset County is in order. This county is home to one of the few remaining covered bridges in the state, making it a must-visit for history and architecture enthusiasts.
To end the day, why not enjoy some outdoor activities? The Delaware and Raritan Canal State Park, a 70-mile long corridor, offers activities like hiking or biking. This is a wonderful way to take in the breathtaking views of the fall colors, creating lasting memories for the family.
With these suggestions, your October visit to New Jersey can be filled with historical insights, wildlife encounters, and active pursuits, all against the beautiful canvas of fall. This makes it a perfect location for those considering a move to Bergen County or simply looking to learn more about this beautiful area.
Mid to Late October Pinelands Tour
Experiencing Bergen County in the heart of October is truly a spectacle, especially when you journey through the iconic Pinelands. This area is known for its breathtaking fall foliage that paints a vibrant palette of colors across the landscape, making it a paradise for those who appreciate the beauty of nature.
The Pinelands not only offer visual treats but also open up a world of outdoor adventures. The region is laced with a network of hiking trails that cut through diverse terrains, inviting you to witness the local wildlife in its natural habitat. You'll find charming towns that bear the mark of New Jersey's illustrious history, which was once the hub of iron-making. These towns, hidden within the folds of the Pinelands, serve as a time capsule that transports you back to the state's industrious past.
Outdoor enthusiasts will find a host of activities to indulge in here. Be it canoeing in the serene cedar waters or bird-watching, the Pinelands offers something for everyone. This region is also renowned for its cranberry festivals that take place during the harvest season. These festivals serve as a celebration of the local culture, history, and culinary scene, making them a hit among both locals and visitors.
Late October in the Pinelands is a symphony of autumn colors, rich history, and unique experiences. It is an ideal destination for those looking to immerse themselves in the natural beauty of Bergen County and learn about its fascinating past. Whether you are a nature lover, a history buff, or a foodie, the Pinelands is a place that should be on your Bergen County itinerary.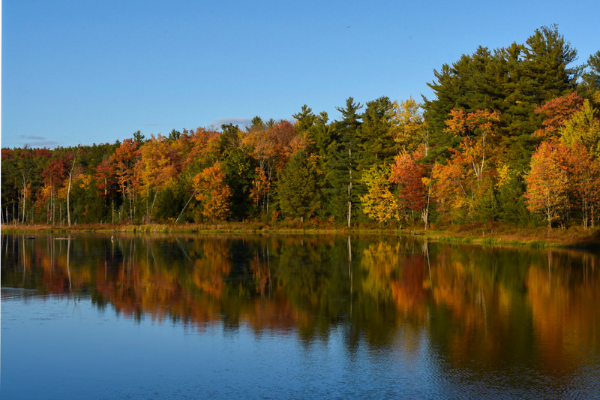 Late October Farmlands Tour
Immerse yourself in the enchanting beauty of New Jersey's farmlands during late October, when the landscape is a vibrant palette of autumn colors. This is the perfect time to engage in a variety of wholesome activities that the region has to offer.
Photographing Fall Foliage: New Jersey farmlands offer a captivating scenery for photography enthusiasts. The brilliant red, orange, and yellow hues of the trees, transitioning from summer to autumn, create a breathtaking vista that's perfect for capturing in photos.
Attending Fall Festivals: The harvest season is marked by local festivities which are a delight for both adults and children. From hayrides and corn mazes to live music, these events bring a festive spirit to the fall landscape.
Apple Picking Excursions: Orchard visits offer an engaging activity for all ages. Picking your own apples not only gives you an abundance of fresh fruits to enjoy, but it also provides an enjoyable outdoor experience for the whole family.
Dining at Farm-to-table Restaurants: The freshness of meals sourced directly from local farms is another unique experience you can enjoy in New Jersey farmlands. These restaurants offer dishes crafted from the freshest ingredients, giving you a taste of the region's culinary delights.
Don't miss out on the pumpkin patches that add a delightful charm to your late October farmlands tour. The sight of bright orange pumpkins scattered across the fields under the autumn sky is absolutely enchanting.
Whether you're a local or a potential newcomer considering real estate options here, the remarkable experiences offered by New Jersey farmlands in late October make it a truly delightful place to live and explore.
Facts About New Jersey Fall Foliage
New Jersey welcomes the arrival of autumn with a vibrant display of colors. A mix of scarlet reds, golden yellows, and various hues of orange dance on the leaves of the state's diverse deciduous trees, painting a beautiful landscape that is a sight to behold. The best time to witness this colorful spectacle is between the second week of October and the first week of November, a period known for peak fall foliage.
The trees responsible for this beautiful transformation include oaks, maples, and hickories, among others. Their leaves change color and create a scenic panorama that lasts for about five weeks. This is a wonderful period for both locals and visitors to appreciate the captivating beauty of the season before winter sets in, and the trees shed their colorful attire.
If you're considering a move to the area or just want to learn more about Bergen County, this time of year offers a unique perspective. The fall foliage is not just a visual treat but a symbol of the area's natural beauty, making it a great place for young families who appreciate outdoor activities. With the backdrop of autumn colors, the county offers numerous parks, trails, and nature reserves for a perfect family outing.
From apple picking in local orchards to hiking trails lined with colorful leaves, Bergen County turns into a haven for those who love the outdoors. It's also a great time to look at real estate, as the beautiful fall colors add a certain charm to the neighborhoods. So why not take a drive around the county, marvel at the beautiful homes nestled among the fall colors, and perhaps find your dream home in the process?
In short, autumn in New Jersey, and specifically in Bergen County, is a season filled with color, beauty, and opportunities to enjoy the outdoors and explore the local real estate market.
Where to See Fall Foliage in New Jersey
Experiencing the rich fall foliage in New Jersey can be an enchanting adventure, with numerous locations throughout the state offering awe-inspiring displays of this annual natural event.
Scenic Drives for Fall Foliage: Enjoy the colors of autumn by taking a leisurely drive through the Delaware Water Gap National Recreation Area or along the picturesque Route 15 in Sussex County. The panoramic views of changing leaves will leave you mesmerized.
Hiking Trails with Beautiful Fall Colors: The trails of Stokes State Forest or High Point State Park are perfect for those who prefer to be right in the midst of the autumn spectacle. Walking these trails gives you a front-row seat to the seasonal transformation.
Photography Amidst Fall Colors: Duke Farms in Hillsborough, known for its diverse plant life, offers the perfect backdrop for those looking to photograph the vibrant hues of fall.
Festivals Celebrating Fall Foliage: Quaint towns such as Hope and Lambertville celebrate the arrival of fall with unique shops, art galleries, and fine dining options. These festivals add a communal charm to the visual feast of autumn colors.
Picnic Locations with Fall Scenery: Locations like Shepherd Lake in Ringwood State Park or the tranquil Lake Nummy in Belleplain State Forest offer perfect spots for a fall picnic. These locations allow you to relax amidst the remarkable fall colors.
When to See Fall Colors in New Jersey
If you're yearning for a sight of the dazzling fall colors in New Jersey, the ideal time to plan your visit is between the second week of October and the second week of November. This period typically offers the most breathtaking view of this natural spectacle. The changing of the leaves is a fleeting moment of stunning beauty, so timing your visit just right is vital.
Interestingly, the exact moment the leaves change their colors varies between the Northern and Southern parts of the state. If you're planning a visit to Northern New Jersey, you can expect the fall colors to reach their peak earlier, around early October. On the other hand, if your travels take you to Southern New Jersey, the fall foliage often reaches its peak in late October or early November. This difference is due to the distinct climates of these regions.
So, if you're planning a family outing or a weekend getaway, remember to take these timings into account. This will ensure you make the most of your fall foliage experience in New Jersey.
Whether you're exploring the scenic views of Bergen County or researching potential real estate opportunities, experiencing the fall colors at their peak can make your New Jersey visit truly unforgettable.
How Long Does Fall Foliage Last in New Jersey
New Jersey's fall foliage typically unfurls its vibrant colors for around five weeks, usually from early October to mid-November. This period offers a wealth of opportunities for locals and visitors alike.
For the shutterbugs among you, the kaleidoscope of autumn shades offers a perfect backdrop to flex your photography skills. The state's landscapes transform into a painter's palette, ideal for capturing memories or honing your craft.
Outdoor enthusiasts will find a myriad of hiking trails that wind through the heart of these beautiful fall colors. The breathtaking views offered by these trails are a sight to behold, a true testament to the beauty of the changing seasons.
The leaf-peeping season also brings with it an array of fall festivals and events. These local gatherings create a sense of community and offer fun-filled activities for all ages, making them a great option for young families.
New Jersey's scenic drives during the fall season are a visual treat. Road tripping through the state allows you to see the dynamic change of colors from various locales and perspectives. Each turn in the road brings a new splash of color and a different piece of the state's natural artwork.
If you prefer a more relaxed pace, consider taking a train ride through New Jersey's fall foliage. These rides offer a unique perspective, allowing you to soak in the beauty of the season while winding through some of the state's picturesque landscapes.
Whether you're a local, planning a move, or just visiting, New Jersey in the fall is an experience you won't want to miss. The blend of community events, outdoor activities, and scenic beauty make it a perfect destination for everyone, especially young families exploring Bergen County.
Frequently Asked Questions
What Are the Best Places in New Jersey to Take Photographs of the Fall Foliage?
For ideal fall foliage photography in New Jersey, consider Stokes State Forest, High Point State Park, or Delaware Water Gap. Utilize early morning or late afternoon light, quality equipment, and thoughtful compositions for best results.
Are There Any Guided Tours Available to See the Fall Foliage in New Jersey?
Yes, numerous tours offer comprehensive fall foliage viewing in New Jersey, including package inclusions, children's activities, and accessibility options. Tour pricing varies, and group discounts are typically available for larger parties.
What Wildlife Might I See While Exploring New Jersey's Fall Foliage?
While exploring New Jersey's fall foliage, wildlife photography and bird watching are popular activities. Migratory patterns of birds can be observed, animal tracking is possible, and signs of autumn hibernation may be witnessed.
Can I Camp in Any of These Parks During the Fall Season?
Yes, many parks in New Jersey offer fall season camping. Remember to make campsite reservations, pack camping essentials, and enjoy activities like campfire cooking and stargazing. Follow fall camping tips for a safe experience.
Are There Any Festivals or Events in New Jersey That Celebrate the Fall Season?
Yes, New Jersey hosts numerous fall festivals, celebrating the season with events such as fall harvests, pumpkin patches, autumn food fairs, art exhibitions, and wine festivals, providing vibrant cultural experiences amid spectacular fall foliage.
Conclusion
In conclusion, New Jersey, with its diverse landscapes, offers a variety of locations to observe the spectacular autumnal transformation. From high altitude parks to serene lakes and historical sites, each location presents a unique experience.
An awareness of peak foliage times enhances the viewing experience. Therefore, whether one prefers a peaceful woodland walk or a scenic drive, New Jersey's autumn colors promise a memorable experience for all.