Welcome to the vibrant and diverse Bergen County, New Jersey, an area that is not just a great place to live, but also a cherished locale for Hollywood directors. This bustling suburb, often referred to as the 'Hollywood of the East', has been the backdrop to many of your favorite films, from Woody Allen's comedic gems to heartwarming rom-coms.
As you explore Bergen County, you'll soon realize it's not just its cinematic connections that make it special. The area is rich with cultural experiences, family-friendly activities, and a thriving real estate market, making it an ideal place to call home. Let's peel back the silver screen and delve deeper into what makes Bergen County so unique.
Whether you're a movie enthusiast, a nature lover, or a prospective homeowner, Bergen County offers something for everyone. Young families will particularly enjoy the wide array of parks, museums, and recreational activities available. From the historic homes lining the streets to the lush parks and top-rated schools, it's no wonder so many people are choosing to plant roots here.
Join us on this informative journey through Bergen County as we highlight the many facets that make this area a real-life movie set and a wonderful place to live.
Key Takeaways
Bergen County has been a popular filming location for many movies, including classics like Broadway Danny Rose, Sophie's Choice, and Tootsie.
Fort Lee, New Jersey, was once known as the "Hollywood of the east" and played a significant role in the early days of film production.
The film industry in Fort Lee brought economic prosperity to the town, creating job opportunities and attracting tourists interested in the film industry.
Efforts have been made to preserve Fort Lee's film history, with the establishment of the Fort Lee Film Commission to promote and safeguard the town's film heritage.
Iconic Films Shot in Bergen County
Bergen County, a hidden gem in the cradle of the film industry, is a place that has silently contributed to the cinematic world in a magnificent way. Can you believe that the streets you walk daily were once a playground to the classics like 'GoodFellas' and 'Big'? Yes, that's right! Our very own Bergen County has been a popular choice for filmmakers due to its unique and diverse filming locations.
Isn't it a thrill to know that scenes from the romantic comedy 'When Harry Met Sally' were shot in the charming East Rutherford? And it doesn't end there. The Teaneck Armory, a local landmark, served as a perfect set for 'You've Got Mail. In fact, even the vivacious 'School of Rock' was filmed in the scenic Franklin Lakes.
It's not just the fact that these movies were shot here that makes Bergen County special. It's how the county's character and charm have been beautifully ingrained into these films, making it more than just a filming location. These movies have given our neighborhoods a unique identity and have made them an integral part of cinematic history.
So, next time when you're out and about, take a moment to look around. Who knows, maybe you're standing right where your favorite scene from 'Big' was shot! And if you're new to the area or considering moving here, not only will you be investing in a great community with a rich history, but you'll also be becoming a part of a locale that's contributed to the magic of the silver screen. For young families, there's the added thrill of showing your children the spots where some memorable movie moments were created.
In Bergen County, you're not just living; you're part of a cinematic legacy.
Exploring Fort Lee's Cinematic Past
Immerse yourself in the fascinating cinematic history of Fort Lee, a charming town nestled within Bergen County. This locale was once the throbbing heart of the early film industry, giving birth to silent film classics that paved the way for today's Hollywood. Its ideal proximity to New York City beckoned illustrious filmmakers, anointing Fort Lee as the cradle of the American film industry.
This cinematic heritage has enriched not just New Jersey's cultural tapestry, but also its tourism. It's a magnet for film buffs and tourists, providing a boost to the local economy. Even though the film industry has since relocated to Hollywood, Fort Lee's cinematic legacy endures. This legacy infuses the town with a unique charm and an intriguing backstory that captures the imagination.
For those considering a visit to Bergen County, or perhaps contemplating a permanent move, a visit to Fort Lee is a must. Here, the echoes of a grand cinematic past are heard in every corner, adding a layer of intrigue to this delightful town. Whether you're a film enthusiast, a history buff, or a family seeking an enriching experience, Fort Lee promises a captivating journey through its storied past.
Economic Impact of the Film Industry
Did you know that Bergen County's economy enjoys a significant boost from the film industry? It's true! Countless movies have been filmed here, not only putting our beautiful region on the map but also creating a variety of job opportunities for our local residents. Opportunities in this dynamic industry range from set construction to catering, making it a significant employment sector in our community.
But the impact goes beyond job creation. The film industry has also given birth to a vibrant film tourism scene. Movie enthusiasts from around the globe are drawn to our county, eager to visit the filming locations and experience the iconic scenery they've seen on the big screen. This influx of visitors provides a substantial boost to local businesses, including our delightful restaurants, cozy hotels, and unique shopping outlets.
So, next time you're watching a movie filmed in Bergen County, remember that what you're seeing on screen is more than just artful storytelling. You're catching a glimpse of our economically vibrant region, enriched by the magic of Hollywood.
This diversity in industry and tourism makes Bergen County an attractive place to live, especially for young families seeking a dynamic and prosperous community. So why not consider making it your home? After all, you could be living in the very place where movie magic comes to life!
Preserving Fort Lee's Film Heritage
Fort Lee, nestled in the heart of Bergen County, holds a hidden gem that not many are aware of – its rich tapestry of film heritage. The town, known for its charming neighborhoods and vibrant local life, is also the caretaker of a significant part of cinematic history.
The Fort Lee Film Commission is a local organization committed to preserving this legacy. Through their dedicated efforts, the town's illustrious connection to the early film era is kept alive and celebrated. They've been instrumental in setting up a special film museum right here in Fort Lee. This museum is a testament to the town's contribution to the film industry and serves as a fascinating repository of film artifacts and memorabilia.
Imagine walking through the museum's corridors, each corner revealing a new piece of the cinematic past. It's like stepping into a time machine, transporting you to the era when Fort Lee was a bustling hub of film production. You'll find items ranging from vintage movie equipment to film posters, each telling a unique story.
So, if you're exploring Bergen County or considering making this place your home, a visit to the Fort Lee Film Museum should be on your list. It's not just an educational experience for film enthusiasts, but also a fun and engaging outing for young families. You'll be able to appreciate the roots of cinema while connecting with the local culture.
Legacy of Fort Lee in Hollywood
Discover the fascinating history of Fort Lee, a treasure of Bergen County, through its profound influence on the Hollywood we know today. Often referred to as the 'Hollywood of the East,' Fort Lee has a rich legacy that dates back to the early 20th century. This charming locale was once the buzzing hub of movie production, giving life to countless silent films and pioneering talkies.
Its ideal location, nestled close to New York City and blessed with varied landscapes, made it a prime spot for film shoots. While its reign as a film production hotspot may have dwindled in the 1920s, Fort Lee still holds a prominent place in film history.
Today, efforts to preserve this intriguing history are alive and well. Organizations like the Fort Lee Film Commission and the Fort Lee Film Museum are committed to keeping this cinematic legacy alive. They provide a captivating glimpse into the past, making it an interesting place to spend time with your family.
Frequently Asked Questions
What Are Some Other Famous Films Not Mentioned in the Article That Were Shot in Bergen County?
You're exploring Bergen County's cinematic influence, beyond what's known. Consider "Analyze This," "War of the Worlds," or "The Sopranos." These gems boost Bergen's film location tourism, offering real-life glimpses into Hollywood scenes.
Are There Any Film Festivals or Events Currently Held in Bergen County That Celebrate Its Cinematic History?
Yes, Bergen County's film preservation efforts include hosting film festivals and events to celebrate its cinematic history. These events not only honor the past but also positively impact the local economy.
How Did the Decline of the Film Industry in Fort Lee Affect Its Urban Development and Architecture?
The decline of Fort Lee's film industry dramatically transformed its economy and culture. You'll notice architectural shifts as the town moved from film sets to residential and commercial development. It's a visual history lesson.
Are There Any Notable Actors or Actresses From Bergen County Who Made Their Debut in These Iconic Films?
Yes, you'll find Hollywood's Bergen County natives in these iconic films. Meryl Streep from Summit starred in 'Sophie's Choice,' while Fort Lee's Michael Zegen appeared in 'The Marvelous Mrs. Maisel.' Bergen County's cinematic impact is clear.
Outside of Fort Lee, Are There Other Towns in Bergen County That Have Significant Ties to the Film Industry?
Absolutely! Bergen County's film inspired landmarks are plentiful. Towns like Alpine, Cliffside Park, and East Rutherford have deep cinematic ties, reflecting a significant cinematic influence on local culture. Hollywood's never far away!
Conclusion
So, next time you're meandering through Bergen County's streets, bear in mind, you're traversing the very terrain where Hollywood magic came to life. As you navigate Fort Lee and beyond, let your curiosity take the reins. Every corner houses a fragment of cinematic history, every vista could double as a film set. The legacy of the 'Hollywood of the East' persists, kindling the creative spirit in filmmakers and cinema enthusiasts alike. Who knows? You might just find yourself amidst the next big film location.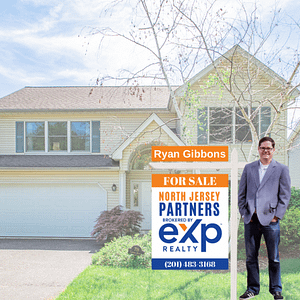 Ryan Gibbons is the co-founder and team leader of North Jersey Partners brokered by eXp realty in Oradell, NJ. He has over 10 years of experience in the real estate industry, helping clients throughout northern NJ achieve their real estate goals. With a passion for providing exceptional customer service, Ryan and his team at North Jersey Partners strive to provide clients with a positive and stress-free real estate experience. He believes in the power of knowledge, and makes effort to stay up-to-date on the latest market trends and developments in the industry. His commitment to excellence and dedication to his clients has earned him the trust of many happy homeowners. If you're looking for a knowledgeable real estate expert in the northern NJ area, look no further than Ryan Gibbons and North Jersey Partners.