In the heart of the beautiful Bergen County, NJ, there's an abundance of sun, sand, and sea just a stone's throw away. This comprehensive guide will navigate you through the diverse array of beaches available for your next family outing.
From the lively atmosphere of Orchard Beach, NY, to the kid-friendly shores of Belmar Beach, NJ, there's a seaside spot to cater to every whim and expectation.
Are you drawn to bustling resort towns? Then look no further than Wildwood Beach, NJ. With its boardwalk brimming with games, rides, and eateries, it's an ideal destination for a day of family fun.
For those seeking tranquility, Island Beach State Park, NJ, offers an undisturbed haven. It's a serene escape from the hustle and bustle, where you can bask in the beauty of untouched nature.
So, why wait? Gather your beach gear, prepare a delightful picnic, and embark on an unforgettable beach day adventure. As you explore, you'll also discover the unique charm of these surrounding areas, perhaps even envisaging your future home in one of these enticing places.
Remember, Bergen County isn't just a location; it's a lifestyle. So, come, experience, and fall in love with all that this region has to offer.
Key Takeaways
Orchard Beach, Long Beach, Jones Beach, Sandy Hook Beach, Belmar Beach, Beach Haven, Wildwood Beach, Ocean City Beach, Cape May Beach, Island Beach State Park, Long Beach Island, Belmar Beach, and Asbury Park Beach are some of the best beaches near Bergen County, NJ.
Travel times to these beaches can vary depending on traffic, ranging from 1 hour to over 2 hours.
Some beaches in New York require admission fees, while others are free to access.
Many of the beaches in New Jersey offer amenities such as lifeguards, food vendors, playgrounds, and clean facilities.
New York Beaches Near Bergen County
If you're in Bergen County and craving a day of sea, sand, and sun, there are several delightful beaches in nearby New York that you can consider.
Nestled just 25 miles away is the charming Orchard Beach in The Bronx. This sandy oasis brims with family-friendly amenities including walkways and playgrounds, making it perfect for a day out with your young ones. While you may encounter a bit of traffic, the relatively short commute promises a day of splashing fun not too far from home.
Further away, but still within an easy drive at 45 miles, is the stunning Long Beach. Here, the golden sands beckon and the inviting ocean is hard to resist. Do note that there's a small admission fee of $15, but the picturesque views and the serene environment make it worth every penny.
For those who don't mind a bit of a drive, Jones Beach, located 50 miles away, is a must-visit. Stretching 6.5 miles along Jones Beach Island, it offers a lively central area where you can immerse yourself in the bustling beach life. If tranquility is more your style, the quieter spots near Jones Beach State Park are ideal. With ample parking facilities, these New York beaches are easily accessible, making them a fantastic choice for residents of Bergen County looking for a quick beach getaway.
Top New Jersey Beaches to Visit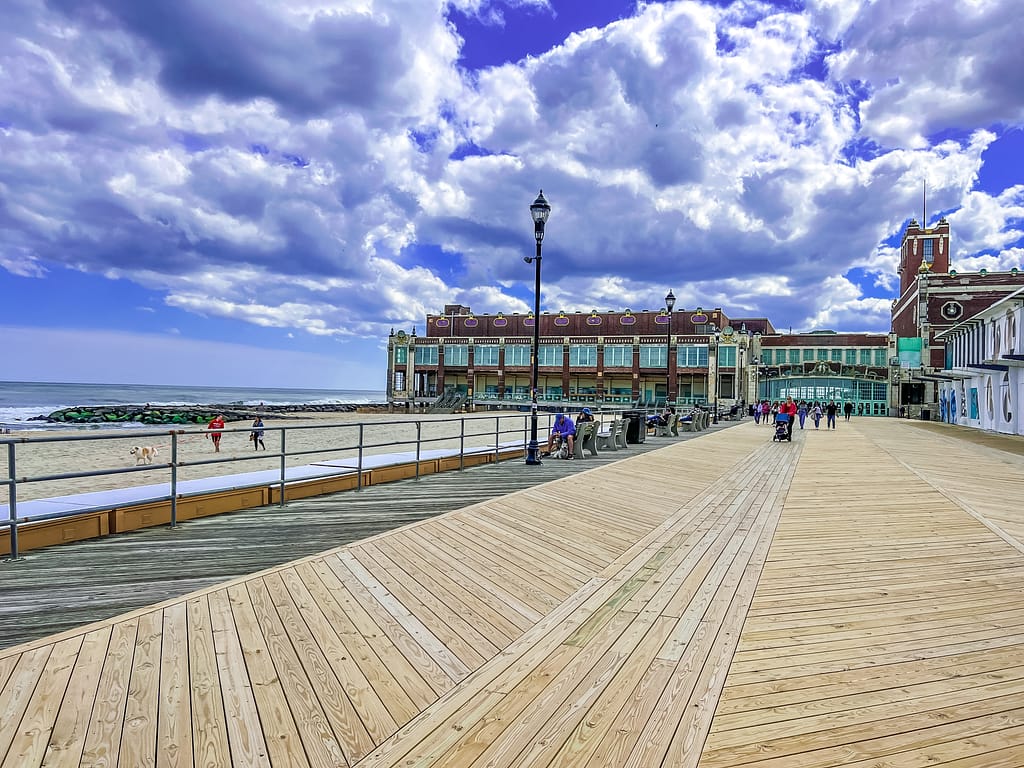 Bergen County, New Jersey is a remarkable region that offers more than just picturesque neighborhoods and prime real estate. It's also a stone's throw away from some of New Jersey's most stunning beaches, each offering a unique experience that caters to every preference.
Imagine the thrill of uncovering the pristine beauty of Sandy Hook Beach, a family-friendly destination known for its clean coastline. It's a quintessential spot for beachgoers who value tranquility and the natural beauty of the shores.
For those who prefer to avoid the crowd, Belmar Beach is the ideal haven. Its serene environment offers an intimate beach experience that's hard to find elsewhere.
If you're a family on a budget, Beach Haven would be an excellent choice. Its public beach area, accessible at no cost, makes for an economical yet enjoyable day out.
If you're up for a little travel, Wildwood Beach is definitely worth the drive. Its resort town atmosphere provides a delightful escape from the everyday hustle and bustle.
Ocean City Beach and Cape May Beach are bustling havens offering thrilling water sports and lively boardwalks, perfect for adventure seekers and social butterflies alike.
For a peaceful retreat, consider visiting Island Beach State Park. Its seclusion offers a unique experience that lets you fully enjoy the tranquility of the beach.
Lastly, don't forget about Long Beach Island and Asbury Park Beach. They offer a variety of water activities and a vibrant community atmosphere, making them ideal for young families looking for fun and excitement.
Family-Friendly Beaches With Amenities
Bergen County and its surrounding areas are a treasure trove of family-friendly beach destinations, each offering an array of amenities that cater to everyone's needs.
Picture a day at Seven Presidents Oceanfront Park in Long Branch. Here, the wide expanse of sandy beach beckons for sandcastle building competitions while the snack bar is a convenient spot for a midday refuel. Active families can enjoy a game of volleyball or let the kids try their hand at the skatepark.
For a dash of fun and adventure, Jenkinsons Boardwalk in Point Pleasant Beach is a must-visit. A hub of entertainment with games, rides, and special events like kite festivals, it promises an exciting day out for the whole family.
Asbury Park, on the other hand, offers a more laid-back beach experience, yet it's teeming with activities to keep everyone entertained. The nearby shops offer a chance to pick up beach essentials or memorabilia, while playgrounds and restaurants cater to the little ones and foodies alike. The splash parks are a fun alternative for those wanting to take a break from the sandy shores.
And for those seeking tranquility, Money Island Beach in Toms River is an ideal spot. Its serene bay is perfect for leisurely paddleboarding excursions or just soaking in the peaceful surroundings.
Every beach in the Bergen County vicinity presents its own unique charm and a host of family-friendly amenities. So whether you're looking for a vibrant, activity-filled day or a relaxed outing, you're sure to find the perfect beach destination in this picturesque region.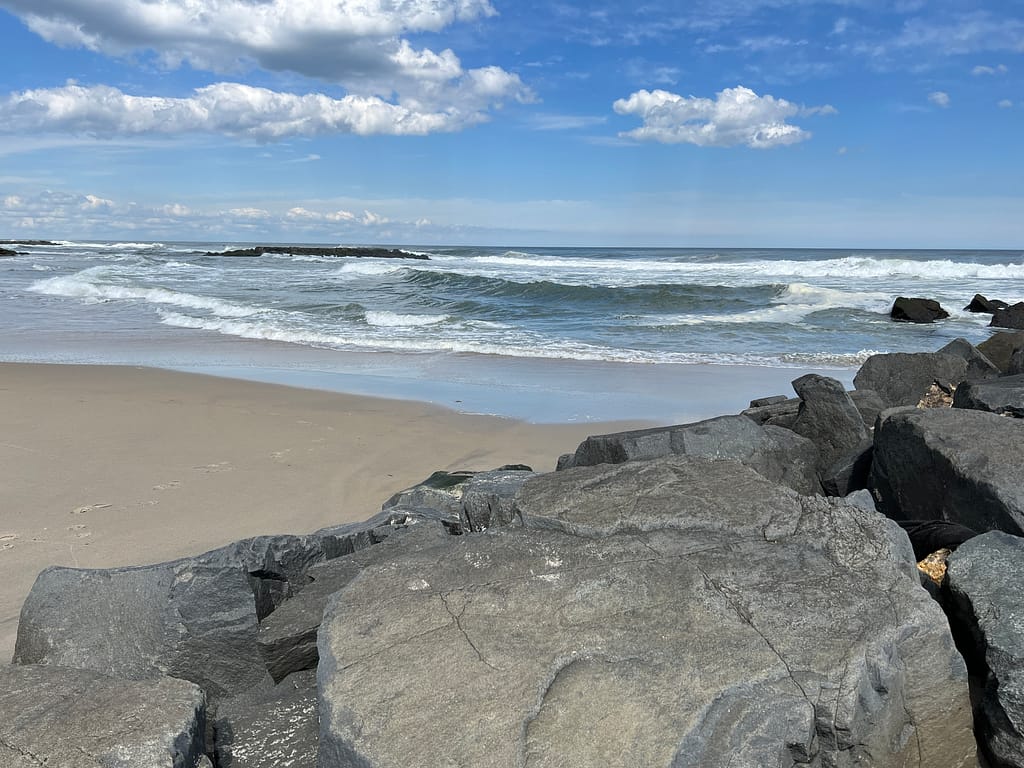 Ideal Beaches for Water Activities
Looking to plunge into water-based adventures around Bergen County, NJ? Sandy Hook Beach is a gem nestled just an hour and 40 minutes away. Beloved by locals, this beach boasts crystal clear waters that are ideal for snorkeling and swimming.
For those with a passion for riding waves, Belmar Beach, only an hour and 20-minute drive away, beckons. Its expansive swells are perfect for an exciting day of surfing.
Paddleboarding enthusiasts will find the serene waters of Money Island Beach in Toms River a haven. A day spent here is sure to provide a much-needed retreat from the hustle and bustle of city life.
Additionally, for a unique and refreshing experience, consider a visit to Lake Welch Beach in Harriman State Park. The tranquil waters of the lake invite visitors to enjoy swimming, fishing, and boating. If you're looking to enjoy a leisurely day, there are also designated areas for barbecuing and picnicking. There's nothing quite like the joy of a family picnic on a beautiful day.
In essence, Bergen County and its surrounding regions offer a variety of water activities and scenic spots that cater to every preference. Whether you're a water sports enthusiast, a family looking for a fun day out, or someone considering the area as a potential place to call home, the possibilities are endless.
Beaches Offering Recreational Activities
In the heart of New Jersey, Bergen County offers an array of recreational activities that cater to both individuals and families. If you're not just keen on swimming, there are a plethora of beaches near Bergen County that are perfect for a day of family fun.
For instance, Seven Presidents Oceanfront Park in Long Branch isn't just a beach, it's an amusement hub! Here, you can engage in a friendly match of volleyball, while the kids can have a great time at the skatepark or the playground. It's a fantastic spot for soaking in the sun while also indulging in some active fun.
Just a short drive away, Jenkinsons Boardwalk in Point Pleasant Beach is a paradise for all ages. With a myriad of games, rides, and kite festivals, this beach offers a unique blend of entertainment and relaxation. And when the sun goes down, you can enjoy an outdoor movie, right on the beach!
For the thrill-seekers, Darlington County Park in Mahwah offers an inflatable obstacle course that promises to get your adrenaline pumping. But if you're in for a more relaxed day, the park also has basketball courts and picnic areas where you can enjoy a tranquil lunch amidst nature.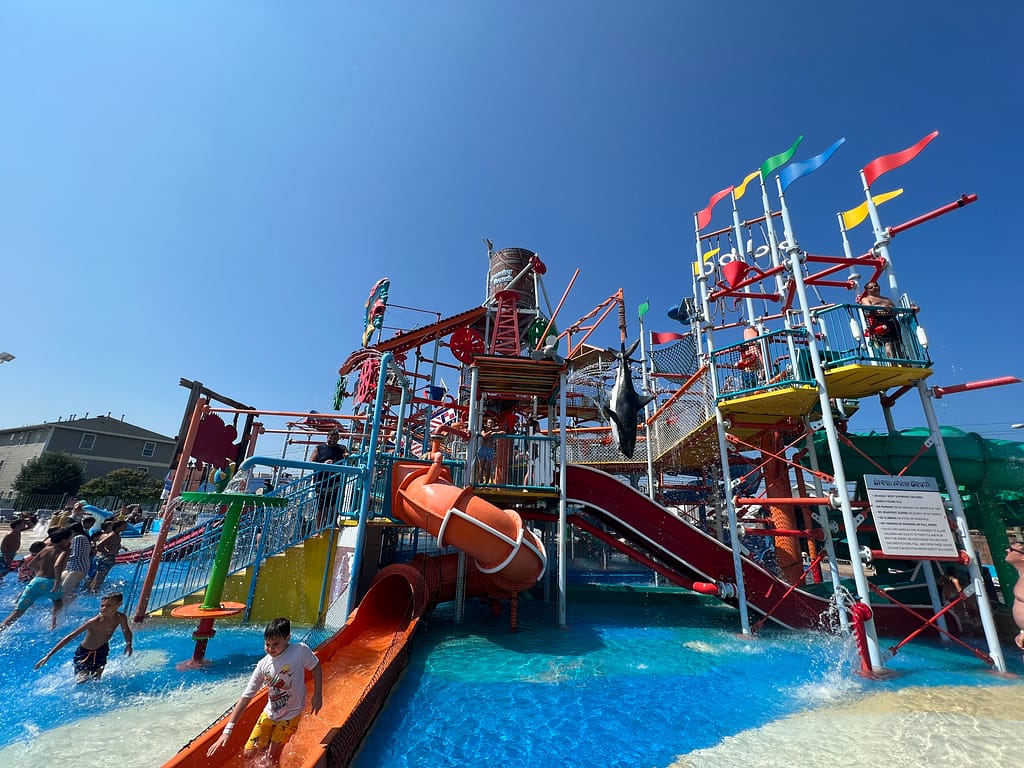 Frequently Asked Questions
What Are Some Beachfront Accommodations Near Bergen County for an Extended Stay?
You're seeking extended stay beachfront accommodations near Bergen County, right? Consider options in Long Beach, NY or Sandy Hook, NJ. Both offer welcoming lodgings close to beautiful beaches for a delightful, prolonged seaside getaway.
Are There Any Beaches Near Bergen County That Offer Beach Wheelchair Rentals for Visitors With Mobility Issues?
Yes, there are. Both Long Beach, NY and Belmar Beach, NJ offer beach wheelchair rentals. It's always best to call ahead and confirm availability to ensure a comfortable beach experience.
Are There Any Pet-Friendly Beaches Near Bergen County Where I Can Bring My Dog?
Yes, there are pet-friendly beaches near Bergen County. Longport Dog Beach in Somers Point and Wonder Bar's Yappy Hour in Asbury Park are both great places to bring your dog for some fun in the sun.
What Are Some Safety Tips for Swimming in the Ocean at the Beaches Near Bergen County?
Always swim near a lifeguard and follow their instructions. Don't swim alone, and avoid rip currents. If caught in one, don't fight it, swim parallel to shore. Apply sunscreen and stay hydrated, too.
Are There Any Special Events or Festivals That Take Place at These Beaches Throughout the Year?
Yes, many beaches near Bergen County host special events. For example, Jenkinson's Boardwalk holds kite festivals and movies on the beach. Always check the beach's official website for the most current event information.