If you're seeking a break from the urban bustle, Bergen County offers an array of stunning nature preserves. Picture yourself walking through verdant woodlands, observing local wildlife, and gaining insight into these critical ecosystems.
Consider a trip to Emerson Woods Preserve, a 19-acre sanctuary for many species. Or, for a more extensive outing, the Ramapo Valley Reservation is a haven of natural beauty. Ideal for hikers, birdwatchers, or simply those who appreciate nature, these spaces provide a tranquil retreat.
Prepare to enjoy the serene charm of Bergen's natural landscapes, a perfect escape for families, nature enthusiasts, and anyone desiring a slice of tranquility in their busy lives.
Key Takeaways
Bergen County has several parks with nature preserves, offering a variety of outdoor recreational activities such as hiking, birdwatching, and picnicking.
Some parks in the county, like Ramapo Valley County Reservation and James A. McFaul Environmental Center, have extensive nature trails and educational programs that cater to nature enthusiasts and provide opportunities for learning about the local wildlife and ecosystems.
There are also parks in Bergen County that offer scenic views and recreational activities, such as Palisades Interstate Park, which provides stunning views of the Hudson River and NYC skyline, as well as Overpeck County Park, which offers sports fields, walking paths, and access to Overpeck Creek for kayaking and canoeing.
Additionally, Bergen County is home to Fort Lee Historic Park, which preserves the site of a Revolutionary War encampment and offers visitors a chance to learn about the park's history through exhibits and reconstructed soldier huts and gun batteries.
Exploring Van Saun County Park
Van Saun County Park is a treasure chest of recreational activities and natural beauty, making it an ideal choice for your next family outing. A visit to this park guarantees a brush with nature's bounty, with its lush walking trails and vibrant botanical gardens. The Bergen County Zoo, nestled within the park, promises frequent sightings of diverse wildlife.
Delight in the outdoor activities that are plentiful here. The park features multiple sports fields, a delightful miniature train ride, and a charming historic carousel. Family-friendly amenities such as picnic spots, playgrounds, and splash pads are sure to keep the little ones entertained.
Whether you seek a peaceful retreat or a day filled with fun, Van Saun County Park caters to all tastes. Experience the charm of this natural sanctuary for yourself!
A Day at Saddle River County Park
Consider setting aside time for a day at Saddle River County Park during your next free afternoon. This expansive natural sanctuary stretches across six municipalities in Bergen County, offering a stunning blend of nature, history, and recreation.
Meander along the winding nature trails, immersing yourself in the park's verdant landscapes and the chance for fascinating wildlife encounters. Be sure to pack a picnic for a tranquil lunch by the pond, a popular spot frequented by ducks.
Historical landmarks dot the park, offering a fascinating glimpse into bygone eras. Spend a moment soaking in these historical sites and reflect on the rich heritage of the area.
For those with a penchant for water activities, the park doesn't disappoint. Canoeing and fishing options abound, perfect for spending a relaxed afternoon.
Whether you're looking for a peaceful escape, a dash of local history, or a fun day out with the family, Saddle River County Park offers a diverse range of experiences and activities. It's a testament to the beauty, history, and recreational offerings of Bergen County.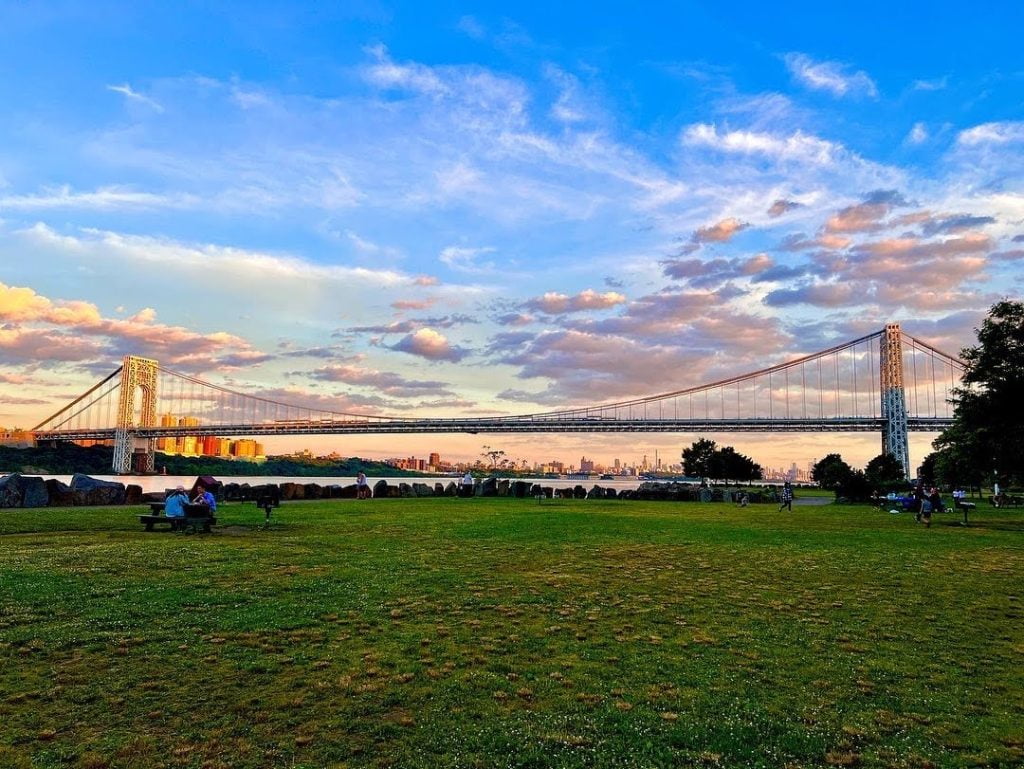 Scenic Views in Palisades Interstate Park
For those who appreciate stunning landscapes, Palisades Interstate Park certainly won't disappoint. This gem in Bergen County offers mesmerizing views of the Hudson River and the New York City skyline that are truly a sight to behold.
The park boasts a multitude of trails and hikes, catering to various levels of adventure seekers. Whether you're an experienced hiker or embarking on your first family hiking trip, there's something for everyone.
One of the many features of the park that families particularly enjoy is the picnic spots scattered throughout the area. These make for an ideal setting for a family day out or a peaceful lunch amidst the tranquility of nature.
For the wildlife enthusiasts, the park is a paradise. It's home to a rich variety of species, turning a simple walk into an exciting wildlife spotting adventure.
And if you're fond of boating or fishing, you'll appreciate the park's river access, which offers ample opportunities for these activities.
One can't talk about Palisades Interstate Park without mentioning the photography opportunities. The beautiful vistas and diverse wildlife provide endless inspiration for both amateur and professional photographers alike.
Overpeck County Park: Recreation and Culture
If Bergen County is on your radar, make sure to include Overpeck County Park on your itinerary. This expansive 800-acre park is a perfect mix of leisure and culture, providing ample opportunities for both relaxation and adventure.
Overpeck County Park is a haven for nature lovers. Its serene waters invite you for a calm kayaking trip, providing a break from your everyday routine. It's also a paradise for birdwatchers, with a diverse assortment of feathered residents inhabiting the park.
But Overpeck County Park doesn't stop at outdoor activities. The park is also a hub for cultural events. From local community plays to performances by national artists, the park's amphitheater is a vibrant venue for entertainment. So, make sure to schedule some time to enjoy the diverse range of experiences Overpeck County Park offers.
Whether you're a resident or just visiting Bergen County, Overpeck County Park brings together the best of recreation and culture, promising a memorable time for individuals and families alike. It's a testament to the region's commitment to providing quality life experiences to its residents and visitors.
Hiking in Ramapo Valley County Reservation
Bergen County is home to the Ramapo Valley County Reservation, a hub for some of the most scenic hiking experiences you can find. The landscape is awe-inspiring, offering a range of trails suitable for all – from those who prefer a leisurely walk to those who crave a more intensive hike.
It's not just about the exercise, though. These trails present an opportunity to experience wildlife up close. Animals in their natural environment can be spotted frequently, making it a great spot for nature enthusiasts and photographers. Bird lovers will also feel right at home, as the reservation is known for its variety of bird species.
And for those moments when you feel like taking it slow, there are numerous inviting picnic spots. Enjoy your meal amidst the tranquility of nature and take in the breathtaking views.
Ramapo Valley County Reservation offers a unique blend of fitness, relaxation, and a deep appreciation for nature's splendor. It's an experience that goes beyond the ordinary, a must-visit for residents and visitors of Bergen County.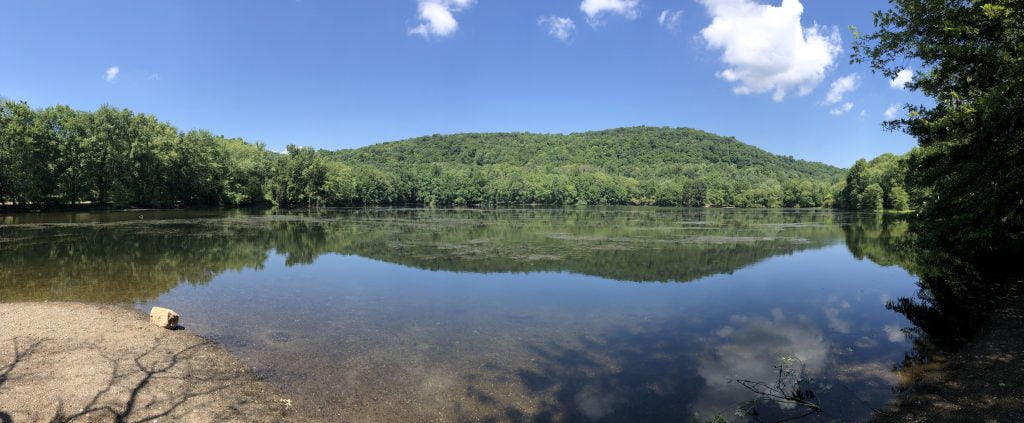 James A. McFaul Environmental Center: Nature and Education
Immerse yourself in the natural beauty of the James A. McFaul Environmental Center, a vibrant educational hub centered on the rich local ecosystem. This sanctuary for birdwatching and photography boasts a wildlife garden and pond bustling with indigenous species.
The center is also home to sports facilities and walking paths, providing a perfect setting for both casual walks and invigorating workouts. History enthusiasts will appreciate the Revolutionary War encampment, a nod to Bergen County's historical significance.
The trails offer breathtaking views of the Hudson River and NYC skyline, a sight to behold. With offerings for nature lovers, history fans, or those who simply appreciate a tranquil walk amidst nature, the James A. McFaul Environmental Center is a must-visit spot in Bergen County.
Historical Significance of Fort Lee Historic Park
If you're intrigued by history and natural beauty, Fort Lee Historic Park should be on your list of places to visit in Bergen County. This site, brimming with historical significance, offers a glimpse into the Revolutionary War era. As you stroll the grounds, you'll encounter reconstructed soldier huts and gun batteries, remnants of a time of conflict and heroism.
The visitor center at the park offers an abundance of information about its past. Here, you'll find exhibits that detail the rich history of the park, allowing you to truly appreciate the significance of the site.
But it's not all about history. The park also offers a breathtaking view of the George Washington Bridge, an iconic landmark that stands as a testament to our progress since those early days. A visit to Fort Lee Historic Park is more than just a day out; it's an opportunity to walk in the footsteps of history.
For families, there's plenty of open space for children to run around, and the park's well-maintained trails are perfect for a leisurely stroll. With its blend of history and natural beauty, Fort Lee Historic Park offers a unique experience for everyone.
Recreational Opportunities at Wood Dale County Park
If you're seeking a locale that combines nature's serenity with engaging outdoor activities, then Wood Dale County Park in Hillsdale is a must-visit. This park is a gem in Bergen County, offering an abundance of recreational pursuits.
The park's trails meander through picturesque landscapes, perfect for leisurely strolls or invigorating jogs. Casting a line into the park's pond offers a serene way to while away an afternoon, and horse enthusiasts will find the equestrian center an exciting attraction.
The park's locale also offers proximity to a variety of local attractions and educational programs, transforming a simple visit into an enriching experience.
Whether you're an ardent nature lover, a family seeking fun weekend activities, or someone needing a respite from urban life, Wood Dale County Park caters to all. It's not just a park, it's a lifestyle – a testament to the charm and diversity of Bergen County.
Frequently Asked Questions
Are There Any Parks in Bergen County That Have Designated Camping Areas?
Unfortunately, there aren't parks in Bergen County with designated camping areas. However, it's essential to know your camping essentials, nighttime safety, campfire regulations, interactive nature activities, and local flora identification for future trips.
Do Any of the Parks Around Bergen County Offer Guided Nature Walks or Tours?
Yes, parks around Bergen County offer guided nature walks and tours. You'll find tour guide training, flora identification walks, historical landmarks tours, nature photography tips, and even nighttime astronomy tours available.
Are There Any Special Events or Festivals Held in These Parks Throughout the Year?
Yes, various parks in Bergen County host special events and festivals. You'll find everything from event photography exhibitions, festival food stalls, cultural exhibits, to event volunteering opportunities. They've ample parking facilities too.
Can I Bring My Pet to the Parks in Bergen County?
Yes, you can bring your pet to Bergen County parks. Observe pet restrictions, leash policies, and prioritize animal safety. Many parks offer pet-friendly trails and pet amenities. Always clean up after your pet.
Are There Any Parks With Specific Areas for Bird Watching or Other Wildlife Observation?
Yes, there are parks designed for bird watching and wildlife observation. You'll need observation equipment for bird identification and wildlife photography. Seasonal varieties abound, and conservation efforts help maintain these natural habitats.